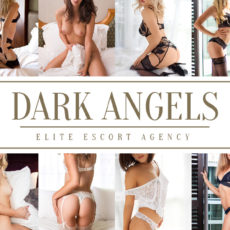 ---
Dark Angels Elite Escort Agency: where intimacy thrives and fantasies are realised.
Our high-end Auckland escorts, or Angels as we call them, are engaging in and out of the bedroom, and do their best to give you an intimate encounter to remember. As an upstanding client, we know you expect nothing but the most beautiful, elegant NZ escorts, and we deliver exactly that.
Our History
Natasha, our owner and operator, launched Dark Angels Elite Escort Agency in Auckland in October 2014. She envisioned an escort agency that would provide discerning clients with the most sophisticated escorts in New Zealand. Her goal was to lead an escort agency that possessed class and exclusivity. From 2014 to now, she's achieved and surpassed that goal.
While our escort agency is still based in Auckland, Dark Angels works with clients around the world. The goal has always been, and continues to be, connecting clients with escorts that fulfill and understand our client's needs.
Our Goals
As a high-end escort agency, we hold ourselves to the highest standards when it comes to client-experience.
Firstly, it is our goal to make the booking process simple for you. We aim to streamline the process for quick access to the experience of your choice. Your time is valuable and we respect that.
Secondly, we want you to connect with the Angel that best matches your preferences. Our selection of Angels allows for an intimate connection; there's a personality match for everyone. We want you to connect with the Angel that understands you and your needs. We get to know your interests and personality in order to provide you with an experience completely tailored to your preferences.
Finally, we promote the responsible practice of commercial sexual services. We educate our clients and escorts about what is legally, ethically, and morally acceptable, as well as what is unacceptable, prior to any encounter. This ensures that the everyone knows what to expect and how to act.
Our Services
At Dark Angels, we provide you with a unique companion experience. It's important for us to know that you are receiving the best service possible, and our Angels deliver those results by making a genuine personal connection with you and attending to your desires.
Our agency operates based on a selective escort screening process that helps ensure our clients experience a perfect adventure. To ensure this level of elite service, Natasha hand-picks escorts who are able to provide clients with the enriching experience they deserve. It is our hope that this personalised approach leaves our clients with the feeling that they've been taken care of attentively and extensively.
Our Angels are usually university students or career professionals, so those responsibilities are the priority. Their time spent with you is at their discretion and for their own personal enjoyment; their pleasure comes from pleasing you.
Angels come to us for the same reasons you do: to experience connections with sophisticated people. In order to accommodate the amount of time necessary to build such a strong level of intimacy, our Angels require advance notice to ensure their availability. For longer encounters and overnights, we'd appreciate it if you booked your appointment at least 48 hours in advance. We're flexible, but advance notice is always easier to accommodate.